Product Description
ESG printing doctor blade was made by Sweden high grade steel strip, through a unique technology for grinding high-precision to produce. ESG printing doctor blades are used in plastics, leather, wood grain paper, wallpaper, and ceramics printing industries. ESG doctor bade are suitable for gravure printing, flexo printing, coating printing industry. Good quality and competitive price are recognized by our clients.
Feature
Carbon Steel ESG Chamber Doctor Blade for Gravure Printing
Thin blade, high strength, toughness, good excellent mechanical properties. In use, it can ensure good contact with surface of the plate roller to achieve the best results. ESG doctor blade rigidity is HV520-580, suitable Hardness HV520-580, easy to wear plate roller. For low, medium and high engine speed of different products.
Product Advantages:
1. All openings of the box without turning mill, saving downtime.
2. Scraper extended wear; scraper good stretch.
3. With good corrosion resistance, reduce the drag line, use the scraper and longer service life than ordinary import of 2-3 times, thereby enhancing economic efficiency.
4. Special point of the opening process to ensure consistent color printing.
5. Applicable to all forward, reverse and closed-end blade system.
6. Uniform scraping effect, greatly reducing the waste of printing supplies.
Product Size
Blade Specification:
Material: Sweden high-quality steel strip
Doctor Blade thickness: 0.152mm/0.203mm
Doctor Blade width: 30mm-60mm
Edge thickness: 0.075mm
Edge width: 1.30mm
Package: 100m/Box or customized.
Product Specifications

20mm × 0.15/0.2mm × 100m/Box
30mm × 0.15/0.2mm × 100m/Box
40mm × 0.15/0.2mm × 100m/Box
50mm × 0.15/0.2mm × 100m/Box
60mm × 0.15/0.2mm × 100m/Box
Usage Doctor Blade & Backup Balde Setup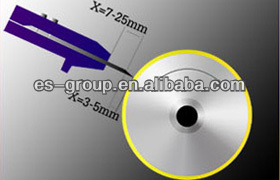 Hard Setup: X = 3mm - Can help reduce instances of hazing.
Standard Setup: X = 4mm
Soft Setup: X = 5mm - Can improve the transfer of fine dots and improve print quality of hard pigment inks, white ink for example.
Doctor Blade Angle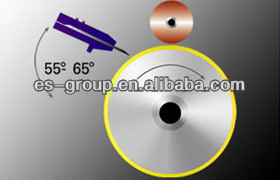 The current optimum blade angle for gravure printing is between 55 and 65 degrees.
Flattening the blade angle will cause the blade to have a larger contact area with the cylinder, this may cause hazing or drag outs.
Sharper doctor blade angles may cause streaks or missing dots.
Doctor Blade Pressure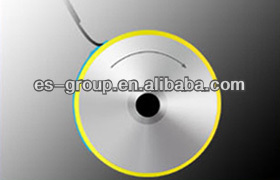 Use as little pressure as is necessary to achieve a clean wipe.
Thinner lamella tips require reduced doctor blade pressure, the blade must remain flexible enough to move with the cylinder.
Too much pressure increases the blade contact area with the cylinder and can cause a number of issues:
Hazing and/or drag outs
Increased friction force – reduced cylinder life
Risk of burr formation on the blade tip
Possibility of steel shavings contaminating cylinder and ink